Pediatric Readiness, defined as having the recommended pediatric-specific champions, competencies, policies, equipment, and resources needed to provide high-quality emergency care for children, has been shown to result in improved clinical outcomes for children.
1
CHOP Pediatric Emergency Medicine (PEM) faculty have been coordinating and performing outreach simulation training sessions through involvement with ImPACTS (Improving Pediatric Acute Care Through Simulation)
2
, a collaboration of pediatric academic medical centers' PEM simulation and education leaders with local community hospitals.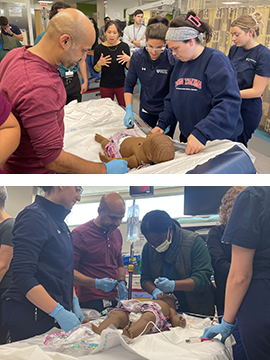 In 2023, the CHOP Outreach Center for Expertise in Pediatric Emergency Readiness and Training (ExPERT) was established to expand the effort to provide high quality pediatric and neonatal emergency readiness and training to surrounding community healthcare providers. ExPERT offers simulation-based training sessions designed to improve pediatric and neonatal emergency readiness within their own clinical environments.
ExPERT training sessions are available for the following learners:
Interprofessional teams in the primary care, urgent care, inpatient care, neonatal care, and emergency care settings
EMS/Prehospital providers and agencies
Community healthcare providers in a non-healthcare setting
Bystanders, laypersons
Let's Improve Pediatric Emergency Readiness, Together
Meet the ExPERT Team
Exclusive Learning Content
CHOP ExPERT References and Resources