Children's Hospital of Philadelphia (CHOP) values advancing care through knowledge exchange with our colleagues around the world. As a thought leader of pediatric healthcare and home to the latest breakthroughs, CHOP recognizes the growing demand for online professional education.
CHOP's Online Pediatric Education Network (OPEN) provides pediatric medical education to healthcare professionals from around the world. Within the department of Global Pediatric Education, CHOP OPEN provides access to the latest advances in pediatric care, clinical educational resources and more. Begin exploring now to access educational offerings developed by CHOP faculty and practitioners.
Monthly Featured Lectures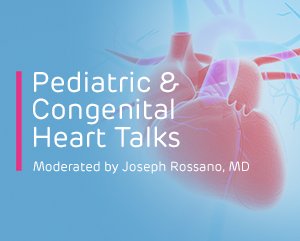 Jack Rychik, MD, Director of the Fetal Heart Program at Children's Hospital of Philadelphia (CHOP), along with several distinguished Cardiac Center colleagues, present Pediatric & Congenital Heart Talks — a video-based, educational resource for clinical and research professionals in pediatric cardiology. Featuring world-class experts and thought-leaders in cardiac care, these video presentations will share new perspectives on basic principles, introduce novel concepts and innovations, and offer unique insight on some of the field's greatest areas of challenge.
Open-Access Medical Education
Many lectures found in CHOP OPEN are prepared by Children's Hospital of Philadelphia staff in weeklong modules that are prepared in affiliation with the American Austrian Foundation Open Medical Institute and presented in Salzburg, Austria. CHOP Open-access Medical Education is supported in part by a generous grant from the Leir Foundation.
Please note that courses presented here have been tailored for their audience in Salzburg, and they may contain stats and information not applicable to all demographics.